"The best journeys answer questions that in the beginning you didn't even think to ask." – Jeff Johnson
Having grown up in Nanaimo, like most from this area, I have only ventured north of Campbell River a handful of times. It is common to meet local Vancouver Islanders who haven't even been that far. If you are in search of desolation, wanting to get in touch with nature or just looking to unwind, there is no better place to be then amongst the trees in the rugged landscape of the north island.
Leif and I were lucky enough to have a few days of peace and serenity in the north island last week. The torrential downpour on Thursday was not enough to deter us from getting out and exploring what this beautiful island has to offer. Despite the weather and the odd questionable song on Leif's Ipod, our 5 hour journey from Nanaimo to Port Hardy was a whole lot of fun. Our first stop was for a fresh fritter from Cumberland Bakery (maybe two) and a well needed coffee from Grind. Both spots are located on the main drive in town and are well worth the slight detour. My frequent snowboard trips to Mount Washington will now include the bakery every time. Friendly locals and funky vibes make Cumberland one of my favourite places to visit.
Continuing north, our next stop was Dalrymple Creek just outside of Sayward. With educational signs along the way, this short, easy trek through the old firs is the perfect place to learn about our forests while also enjoying the wicked views and soothing sounds of the creek. After Dalrymple, we explored the small, quaint town of Woss "Vegas" and the Lucky Logger Pub. From here you are only about 1.5 hours away from Port Hardy.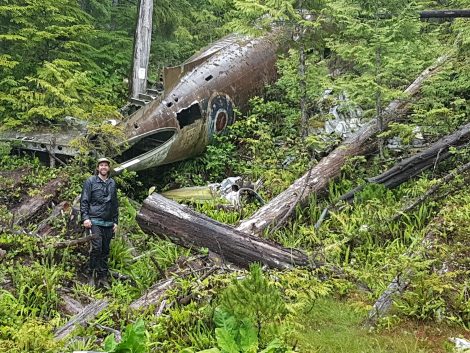 Tall trees, mountains and waterfalls highlight the winding, isolated drive to the northernmost community on Vancouver Island.
Thanks to the rain, our original plan of camping was kiboshed. I was more than happy to stay at the North Coast Trail Backpackers Hostel and return to my traveling roots.  Anne and Rob, the owners, are super friendly and down to earth people and they loved having us there.  Although Anne warned us about bears, the recent cougar sighting and the muddy conditions, Leif and I still decided to hike to the 1945 WWII 576 Dakota plane crash site. The hike itself is only 2 hours round trip but has a few challenging, steep sections to be cautious of.  The trail is relatively well maintained, but there is still some bush whacking to be done with your stick of choice as well. Once you get to the site, you will see a plaque explaining some of the history and the Dakota nestled in the old growth forest, pretty much fully intact. This was remarkable to me considering how long it has been there for and how terrible the crash was. Once we finished our hike, we were soggy but definitely satisfied. After a few beers at the hostel, a quick bite to eat at Toudai Sushi and a riveting game of shuffle board we were ready to hit the hay and rest up for the next day of adventure.
Nothing feels better than waking up the shuffle board champion of the North Coast Trail Hostel. With my spirits high, the day began with a coffee and a danish from a cozy, vibrant joint called Cafe Guido. After breakfast, we loaded back into the van and made our way to Storeys Beach, which is near the airport. Along the way we saw countless eagles but still not one bear… It's not often I come home from the north island without seeing at least a few bears. We took some time to explore the sandy, stretching coastline of Storeys before eventually continuing south down the island.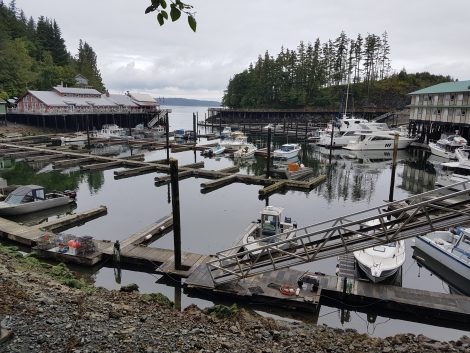 Although we didn't have time to venture out to San Josef Bay, Raft Cove or the surrounding areas, I would highly recommend these camping or day trips to anyone. Head two hours west of Port Hardy down a logging road and you will not be disappointed…trust me on this one!
Our next stop was Telegraph Cove, which should be on everybody's bucket list to explore. This unique old fishing village is home to some rustic buildings and cabins and is also the gateway to the Johnstone Straight and Robson Bight. Through the summer months, Telegraph Cove is thriving with tourism. Kayakers come from all over the world with hopes to see the many orca whales that reside in the area. Luckily we were there on somewhat of a quiet day and were able to experience the boardwalk without too much interruption.
Leif and I had researched our next stop in Sayward the night before and were stoked to check it out. White River Provincial Park, the so called "Cathederal Grove of the North", turned out to be quite the bust, although we still had fun finding it! It was a nice example of old growth forest, however places such as Cathedral Grove or Avatar Grove far surpass this small block of forest in denseness and darkness.
After a quick visit to Elk Falls in Campbell River, our final stop was at Gladstone Brewing Company and Guerilla Pizzeria in Courtenay. If you are a craft beer lover and haven't been to this place, you are definitely missing out. Gladstone is my ideal hang out, it's an old converted car garage and is full of good energy. There are always thirsty customers lined up out the door, awesome decorations hung on the wall and most importantly the beer is  actually really solid. We had a flight of 6 different brews served on an old licence plate paired with a delicious pizza. It was the perfect way to end our quick little north island getaway!
I still didn't see any bears.